training activities
In addition to our regular programme, members have the opportunity to participate in a wide range of other training activities in order to develop their practical skills.
We run training excavations which aim to equip our members with an understanding of the skills necessary to partake in an archaeological excavation. Participants are not only taught how to 'dig' but are also encouraged to take part in the various finds processing, recording, analysis and technical drawing activities that are an essential part of any excavation.
During National Archaeology Week in July we usually make a visit to a real life archaeological dig to give our members the chance to experience and watch some practical archaeology close up and at first hand. In recent years, we have been fortunate enough to be invited to visit both the University of Reading's excavations of the ancient Roman town of Calleva Atrebatum, in modern day Silchester (an Iron Age oppidum which subsequently became a town in the Roman province of Britannia and the civitas capital of the Atrebates tribe) and the fascinating site being excavated by the University of Oxford at Marcham/Frilford, located in the Vale of the White Horse, (where an Iron Age settlement is overlain by an unusual Romano-British temple complex). We also organise occasional excursions to the Thames Foreshore where members are able to get involved in the search for artefacts, frequently with some spectacular results.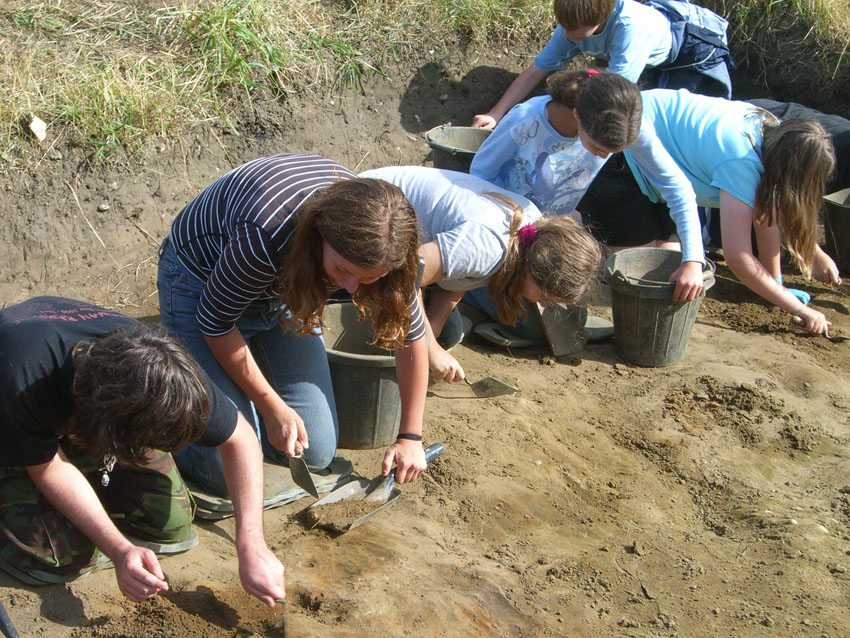 We also undertake a number of experimental archaeology projects. Recent constructions have included a working early Iron Age bread oven and a full sized Iron Age round house, thatched in the ancient style with water reed. Smaller scale ventures have included making nettle twine, flint knapping, growing Iron Age crops and Roman cookery.
The group is currently engaged in an ongoing project, supported by the Heritage Lottery Fund, to uncover "Chobham's Hidden History". This involves the digging of a number of 1m-by-1m test pits across the village, the processing of the subsequent finds and, eventually, the making of a display of the findings. Results so far have been very exciting with finds dating right back to the Anglo-Saxon period.
Enquiries to, or further information from, Phil Stevens by e-mail or phone at 01276 506182